1 Bedroom Blueprints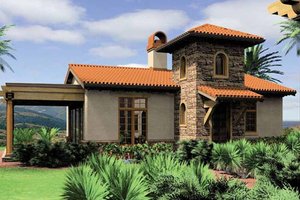 1 bedroom house plans can be tiny house plans, small house plans, or simple cabin house plans that make great vacation home designs. Whether you're looking for a garage plan with apartment above (which often means a house plan with inlaw suite) or a small home plan for a narrow lot, you'll find your perfect one bedroom home plan here.
There are many reasons to choose a 1 bedroom house plan. Maybe you're building onto a larger home and you want room for guests, or even a space to rent out for extra income. This is especially handy if you have a grown child who lives at home but wants a little extra privacy. Or perhaps you just don't need a lot of space and are ready to build your dream tiny house plan. One bedroom house plans are affordable to build and cheap to maintain.
Just because these one bedroom homes are cheap to build house plans doesn't mean the blueprints can't have modern features, like open floor plans or spacious bathrooms. You'll find plenty of 1 bedroom home plans in this collection that feature those amenities and more. Building in the mountains, where an A-frame house plan will fit the rugged scenery? Check. Or how about a simple cottage house plan for enjoying a weekend in the woods? Done.
Small house plans can have big curb appeal. Browse our collection of 1 bedroom blueprints to find your perfect little home today.