3 Bedroom House Blueprints, Layouts & Floor Plans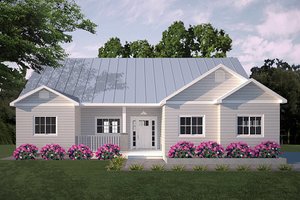 3 bedroom house plans are our most popular layout configuration. Why? Because house plans with three bedrooms work for many kinds of families, from people looking for starter home plans to those wanting a luxurious empty nest design. With three bedrooms, you have space for yourself, guests or kids, and perhaps even an office. Blueprints with 3 bedrooms can range from small house plans to luxury home designs. Modern house plans make the most of every bit of space, and these are no exception. Though you will find exceptional style!
What if you want more space later? Many 3 bedroom house plan blueprints feature bonus spaces upstairs, which give you room to expand to accommodate visitors or simply store holiday decorations when not in use. You'll find all kinds of sizes and styles in this collection, from modern farmhouse plans with three bedrooms to Craftsman bungalow house plans with curb appeal. Ranch house plans make it easy to age in place, while home plans with two stories can maximize a small lot to help you stay on budget.
Looking for a house plan with an open-concept layout? You'll find that most of these plan feature modern open layouts that create traffic-free house plans. Island kitchens give you plenty of room to entertain and cook at the same time. Or head out to spacious porches, decks, patios, and other outdoor living areas.
3 bedroom blueprints can fit just about anywhere, from Texas to Florida to Tennessee to Washington State and beyond. Explore the three bedroom home plan collection to find your perfect house plan design and the 3 bedroom blueprints of your dreams.